Albany Options School Counselor: Anna Harryman
Contact
541-967-4563
anna.harryman@albany.k12.or.us
Request a time to meet or chat
About Mrs. Harryman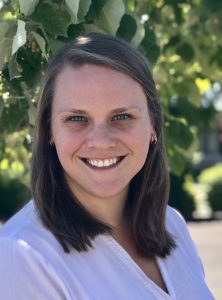 Welcome to my counseling page! I have over a decade of experience working in alternative education. This is my passion and what I enjoy doing. I have worked in multiple alternative high schools in multiple capacities including as a teacher in English, Social Studies, Family and Consumer Sciences, and Horticulture, and as a counselor.
In addition to being the current AOS counselor, I am the district Lead Counselor for the secondary level and am the Crisis Response Coordinator for the district.
I have my Bachelor of the Arts degree from the University of Portland in History and German Studies with a minor in Philosophy, my Master of the Arts in Teaching from Western Oregon University, and my Master of the Arts in School Counseling from Northwest Christian University.
My Counseling Beliefs
I believe that every student who comes to AOS is capable of reaching their personal academic and career goals. My job is to assist students as they navigate the complexities of school, scheduling, social and emotional issues, and jobs and careers. As the counselor, it is my role to support and advocate for the needs of the student. I work with teachers, administrators, families, and community and services partners in order to best serve each individual need.
Everyone deserves to feel safe and supported at school. If that is not the case, please see me and I will strive to guarantee that you feel safe, valued, and ready to reach for academic and personal greatness.
About the Counseling Program
The counseling program at Albany Options School (AOS) is unique in that our school predominantly serves eleventh and twelfth graders who are credit deficient. Students are aware that this is often their "last best chance" to graduate from high school, and that their commitment to graduating is essential. The program is available to help students problem solve, deal with crisis and trauma, and help find additional resources. Understanding each student's needs is crucial, and developing an academic program that takes this into account is vital. The counseling program strives to help students stay in a positive and productive state so they can earn the credits necessary, and have the experiences they need to graduate from high school and pursue their post-secondary goals.
Confidentiality: Confidentiality is key to a successful counseling program, but cannot always be guaranteed due to the nature of working in a school and with minors. Mrs. Harryman will always strive to maintain confidentiality unless the circumstances prevent it.
COUNSELING SERVICES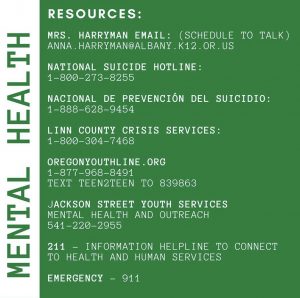 Mental Health and Groups Student's mental health wellness is a top priority at Albany Options School. If you believe you would benefit from participating in mental health counseling or groups, please let me know. AOS has partnered with North Albany Wellness Center to provide full-time mental health counseling on site, which includes individual and group counseling. If you are interested in learning more or would like a referral, please contact me.
Career and Vocational Counseling I am available to meet individually to discuss post-secondary plans such as careers, college, military, and trade school. I also help seniors prepare for the Youth Job Fair (graduation Career Ed. requirement), and make sure they have completed all of their .50 Career Education requirements. I can assist with FAFSA, college applications, job applications, college and job searches, and scholarship applications.
Academic Advising If you have any questions about graduation requirements, study skills, time management, credits, transitioning to AOS, or how to return to your "home" school, please come see me or schedule an appointment to talk. AOS students are also able to take AP and other courses not offered at AOS at both SAHS and WAHS, as well as take courses out at LBCC. If interested in learning more or enrolling in courses at one of the other high schools or LBCC, come see me!
Responsive Services If you are struggling with something personal in school or outside of school, please come see me. This may include, but is not limited to:
Pregnancy
Homelessness
Bullying
Orientation and identity
Suicide or self-harm
Abuse
Grief and depression
If you need access to resources or necessities, I may be able to help. Some needs could include:
Personal hygiene items such as shampoo, deodorant, feminine products, soap
Laundry and showering
Transportation
Shoes and clothing
Services Referrals
Please take a moment to view the district Family Services page to view an extensive list of resources in our community.
Scheduling I am responsible for scheduling your courses. If you have a question or a concern about your classes, please contact me. Until then, please continue attending your current classes. Your classes are determined based off of your graduation requirement needs.
Section 504 I manage all 504s for AOS students. If you have any questions, do not hesitate to contact me.