Trimester 2 begins on Tuesday, December 8th and will include a new bell schedule that is slightly different from the one we had Trimester 1. The adjustments were made to help facilitate an easier transition to hybrid in-person learning.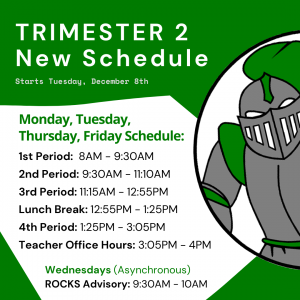 Students can get a copy of their new class schedule, any textbooks or books, and supplies at AOS on Monday, December 7th between 10am and 2pm. Please swing by the school during that timeframe, wear your mask, and maintain social distancing. If you have been exposed or are experiencing any symptoms, we ask that you stay home and contact the school.
Students will also be able to turn in their old textbooks and books during that time.
In addition, we will have the district FACT program and Jackson Street Youth Services present with free resources and supplies for you to take advantage of. We will also have snack packs as supplies last.
If you have any questions, please contact Mrs. Harryman at anna.harryman@albany.k12.or.us.
_________________________________________________________
El trimestre 2 comienza el martes 8 de diciembre e incluirá un nuevo horario de campana que es un poco diferente al que teníamos en el trimestre 1. Los ajustes se hicieron para ayudar a facilitar una transición más fácil al aprendizaje híbrido en persona.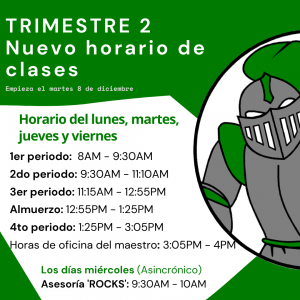 Los estudiantes pueden obtener una copia de su nuevo horario de clases, cualquier libro de texto o libros y útiles en AOS, el lunes 7 de diciembre, entre las 10am y 2pm. Por favor pase a la escuela durante ese periodo de tiempo, usen su mascarilla y mantengan el distanciamiento social.  Si han estado expuestos o tienen algún síntoma, les pedimos que se queden en casa y se comuniquen con la escuela.
Durante ese tiempo, los estudiantes también podrán entregar sus libros de texto y libros que ya no usarán.
Además el programa FACT del distrito y la organización 'Jackson Street Youth Services' estarán presentes con muchos recursos y útiles gratuitos. También tendremos paquetes de refrigerios disponibles hasta que se acaben.
Si tienen alguna pregunta, comuníquense con la Sra. Harryman en anna.harryman@albany.k12.or.us.