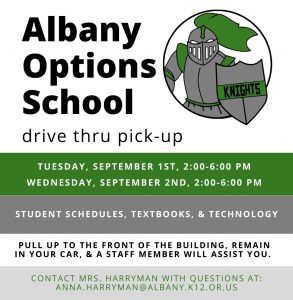 Chromebooks will be available for any GAPS student, grades 2-12, in need of a device for the 2020-21 school year. Each student can have their own device and will not have to share with other members of their household.
Returning students who still have their Chromebooks from the Spring may continue to use them into the Fall semester.
In addition, students will receive a copy of their schedule for the first grading period and any textbooks needed for their classes.
Please bring your student ID for pickup or another form of identification (if available). Students do not have to be present for parents or guardians to receive a computer.
In order to protect staff and families, the pick-up process will be as follows:
Staff will pre communicate with each vehicle to determine what technology is being picked up and give the parent/guardian a checkout agreement.
Staff will request student ID of the student (if available) and scan the serial number on the back of the Chromebook into the tracking sheet.
Staff in PPE will hand the Chromebook through the vehicle window to the occupants.
AOS Distribution Dates and Times
Tuesday, Sep. 1 – All Students – 2-6 pm
Wednesday, Sep. 2 – All Students – 2-6 pm
IF you would prefer to purchase a device instead of using the District provided Chrometab (Grades K-1) or Chromebook (Grades 2-12) OR are wondering if a device you currently own will be usable, please ensure they meet the requirements outlined at this link.
______________________________________________________
Distribución de Chromebooks y Tecnología del otoño de AOS
Publicado el: 19 de agosto del 2020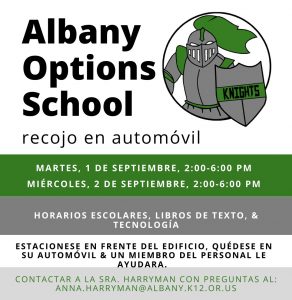 Los Chromebooks estarán disponibles para cualquier estudiante de GAPS, de los grados del 2° al 12° grado, que necesite un dispositivo para el año escolar 2020-21. Cada estudiante puede tener su propio dispositivo y no tendrá que compartirlo con otros miembros de su hogar.
Los estudiantes que regresan y que todavía tienen sus Chromebooks desde la primavera, pueden continuar usándolos durante el semestre de otoño.
Además, los estudiantes recibirán una copia de su horario para el primer período de calificaciones y los libros de texto necesarios para sus clases.
Por favor traiga su identificación de estudiante para que puedan recoger estos equipos u otra forma de identificación (si está disponible). Los estudiantes no tienen que estar presentes para que los padres o apoderados reciban una computadora.
Para proteger al personal y a las familias, el proceso de recojo será el siguiente:
El personal se comunicará previamente con cada vehículo para determinar qué tecnología se está recogiendo y le dará al padre / apoderado un acuerdo de préstamo.
El personal solicitará la identificación de estudiante (si está disponible) y escaneará el número de serie en la parte posterior del Chromebook en la hoja de seguimiento.
El personal con el respectivo Equipamiento de Protección Personal (PPE por sus siglas en inglés) entregará el Chromebook a los ocupantes a través de la ventana del vehículo.
Fechas y horarios de la distribución en AOS
El martes 1° de septiembre – Todos los estudiantes – 2-6 pm
El miércoles 2 de septiembre – Todos los estudiantes – 2-6 pm
SI prefiere comprar un dispositivo en lugar de usar el Chrometab (Kinder-1° grado) o Chromebook (2° al 12° grado) proporcionados por el Distrito O se pregunta si un dispositivo que posee actualmente será utilizable, asegúrese de que cumpla con los requisitos descritos en este enlace.