On Monday, June 11th, AOS graduated a record breaking number of seniors. The previously held record for graduates was 57, which was broken with 61 graduates this year.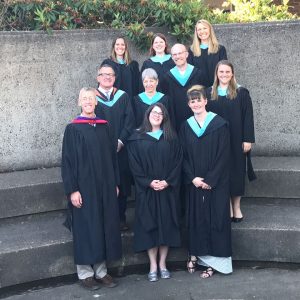 The graduation ceremony was held in the Russel Tripp Performing Arts Theater at Linn-Benton Community College. 54 students participated in the ceremony, which included the AOS tradition of the teachers taking time to speak about each individual graduate.
Yuritzi Rivas-Romero was the class speaker, who shared her experience of turning her life around when she came to AOS and the incredible love and support she received here. She challenged her classmates to keep growing and improving as they leave high school and go on to the next phase of their journey.
As always, the AOS graduation ceremony was personal, emotional, and very special.
We wish all of the best to the Class of 2018.
Congratulations, graduates!
Class of 2018
Mary Elizabeth Bursey
Kesha Raelynn Collett
Gerardo Cortez Ortiz
Josh Countryman
Anabel Cortez-Alvarado
Hailey Michelle Cotton
Madeline Elizabeth Lynn Crocker
Alyssa Theone Cumpiano
Trevor Davisson
Talton Wayne Dunshee
Laurel Tre Elliott
Izze Sabian Rain Eppard
Timothy Gage Flaugher
Karla Elizabeth Franco Mireles
Justus Dean Gile
Cameron James Helms
Adriana Hernandez Morales
Shyanne Jordan Hoggins
Gilbert Tyler Howell
Isac Aaron Huesca
Anessa Marie Johnson
Jacob Kurt LaFond
Noah Honor Lancaster
Leslie Lazcano Uriostegui
Ryan Michael Long
Maria Guadalupe Lopez Cordoba
Briar Curtis Lynch
Eric Martinez Contreras
Jaden Rayne Mathis
Elver Antonio May Uc
Kobe Wayne McLaren
Jose Eduardo Mendoza Ramirez
Andrew Thomas Middleton
Ashtin Zakkery Gage Miller
Tanner Brian Mills
Evelyn Mireles Robles
Israel Moreno
Emily Ray Nelson
Tyler Lee Nofziger
Jennifer Joceline Orozco Sanabria
Adela Anais Ortiz Vaca
Juan Guadalupe Ortiz Cortez
Brittany Marie Ritter
Yuritzi Aretzy Rivas Romero
Abigail Trinity Ross
Estefany Abigail Sanchez
Xavier Lee Schmidtke
Krysten Schmult
Deanna Marie Smith
Austin Cordell Stewart
Kevin Shane Stevens Jackson
Matthew Strom
Sebastian Xavier Taylor
Bryanna Raye Tetu
Destiny Marie Thompson
Makenzie Ann Vineyard
Breanna Jane Volkers
Lance Aaron Wallace
Bobby Jean Weatherford
Jared Albon Wolfe
GED Completers
Steven Birtwell
Ashley Cabrera
Megan Carter
Gage Conklin
Heather Gallentine
Marifer Garcia Medina
Sophia Gonzalez-Bolen
Shyann Harris
Izaak Herbst
Krystal Hiner
Nolan Langley
Chloe LeFever
Gaby Lopez
Rosa Mendoza
Tanner Mills
Lavon Monroe
Cash Moore
Alex Munoz
Ireland Nelson Hill
Lidia Novak
Ashleigh Quinlan
Ashton Richmond
Isaac Rimer
Whitney Rodgers
Cecilio Romero
Corbin Ruby
William Santa Maria
Keegen Schmult
Amber Scott
Guillermo Scott
Luis Sequiera
Logan Sherwood
Damien Sorric
Eduardo Tenorio
Lance Wallace
Dominic Walters
Andrew Warren
Kylre Willie
Eric Witney