Southpaw's Perfect Pizza & Sports Pub has had a Bulldog pizza on their menu for West Albany High School, and a Rebel pizza for South Albany High School, but starting in June, there will be the Knight pizza on their menu for Albany Options School!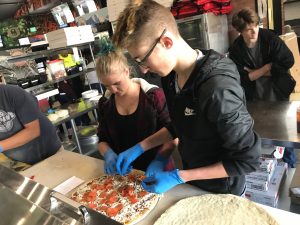 Thursday, May 10th, nine AOS students went to Southpaw's to create the concept for the new pizza. They worked in teams of three to create their concept with the mentorship of both a Southpaw's and an AOS staff member. The students were then able to go into the kitchen, create the pizza, bake it, and present it to a panel of judges to determine which pizza would become the new Knight.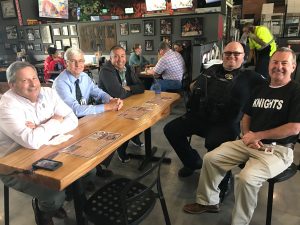 The panel of judges was made up of Human Resources Administrator, Rich Sipe; FACT Consultant, Rich Guzman; School Resource Officer, Ken Fandrem; and Executive Assistant to the Superintendent, Jim Haggart.
The winning pizza was created by Laurel Elliott, Ethan Sjolander, and Abigail Ross, who were coached by AOS Registrar and Office Manager, Gwen Barker.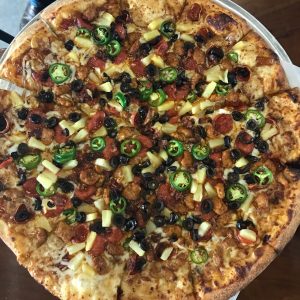 The pizza includes Hawaiian sauce, mozzarella cheese, pepperoni, Italian sausage, bacon, black olives, sliced jalapeños, and pineapple chunks.
Look forward to seeing the Knight on the menu at Southpaw's in June!
Check out the story in the Albany Democrat-Herald.