Dear Students, Families, and Friends,
Preparing for the holidays I began to reflect on the start of the this school year. Some things that came to mind were:
– We have an incredible group of students this year. I am so grateful each and every one of you. I am the luckiest principal in the district because I get to come to work every day to spend my time with you.
– I have a wonderful staff. We are all so fortunate to have teachers and staff who are so passionate about our students and the mission of AOS, who are also extremely talented and hardworking.
– The seniors who attended the Youth Job Fair blew me away with how professional and grownup they looked and acted. There is no doubt in my mind that our students can accomplish anything they want when they set their mind to it. Many members of the community sang your praises after the event. One commented that his interview with an AOS student was the best he had all day. You are an amazing group of young men and women.
Because of each and every one of you, it is easy for me to be grateful this time of year.
As we start the new calendar year and think about new years resolutions, I would like to urge each student to have 2018 be the year you take ownership of their education and future. Let this be the year grades improve, attendance improves, and educational goals become a reality.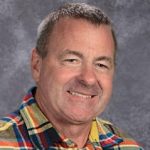 From all of us here at Albany Options School, we would like to wish you all a very happy holidays and new year. Have a fun, relaxing, and safe winter break, and I look forward to seeing you in the new year.
Sincerely, John Hunter