On Wednesday, May 31st, fifteen Albany Options School students volunteered their day at the Youth Special Olympics held on the South Albany High School track.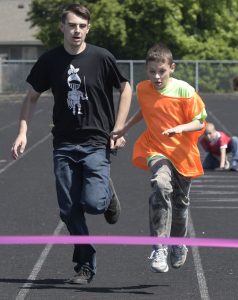 For the sixth year in a row, AOS students have participated in this event. The students set up the events, ran the events and assisted the Olympians, and cleaned up afterwards.
The AOS students look forward to this event every year. Many comment on how meaningful and special it is to them and how fortunate they are to be able to participate in it.
Check out the article about the event in the Albany Democrat-Herald.
Photo by David Patton, Albany Democrat-Herald.