This year the Albany Public Schools Foundation put on their 15th iRun for Kids race.
This is a fundraiser for the Albany Public Schools Foundation, and each year they have over 650 participants. The run is a fun event with sponsors handing out goodies, massage therapists to ease post-race pain, and even pizza and chocolate milk to consume after the exertion of the run.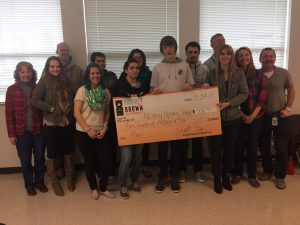 Each year the Foundation awards a $500 scholarship to the school that has the highest percentage of participants.
This year Mrs. Mitchell and Ms. Fitzpatrick thought it would be wonderful if AOS tried to win that $500. Through coordination, AOS ended up 47 participants! This is the first time AOS has participated in the event.
As runners were lining up to begin the race, the scholarship winner was announced as Albany Options School. This year the donor of the $500 is Dr. Brown. The check was presented to AOS the morning of March 24th on behalf of Dr. Brown and the Albany Public Schools Foundation.